Neighbors, Community Invited to Comment on Plans to Phase out Maritime Emissions
Multi-lingual survey open now, register for July 15 online webinar
In 2021, the Northwest Ports of Vancouver, BC, Seattle, Tacoma, and the combined container operations of The Northwest Seaport Alliance (NWSA), committed to an ambitious, comprehensive strategy to address the urgency of the climate change crisis and phase out seaport-related air emissions.
The public is invited to provide feedback on draft implementation plans for the Northwest Ports Clean Air Strategy through a community webinar, an online survey, and by email through Sunday, August 15.
"This is an issue where we have overwhelming agreement on the urgency," said Port of Seattle Commissioner Stephanie Bowman. "Taking community feedback on how to prioritize and implement this strategy, and making progress towards our zero-emissions future, is some of the most urgent and important work we will do this year."
"Listening to community, non-profits, and industry partners is an important part of our process. These engagement opportunities allow us to tap into the considerable experience, expertise and creativity of our near-port communities, which will help make our implementation plans stronger," said Dick Marzano, Port of Tacoma commission president.
The Northwest Ports Clean Air Strategy covers six sectors of port activity: oceangoing vessels, cargo-handling equipment, trucks, harbor vessels, rail, and port administration and tenant facilities. Each port developed an implementation plan specific to their unique lines of business.
Submit feedback on the Ports of Seattle, Tacoma, and NWSA draft implementation plans by:
The Ports and the NWSA will use public feedback to refine their implementation plans, particularly by looking at which projects to tackle first and which strategies best serve public need.
The current feedback opportunities are in addition to ongoing engagement between industry and near-port neighborhood representatives and the Ports of Seattle, Tacoma, and NWSA.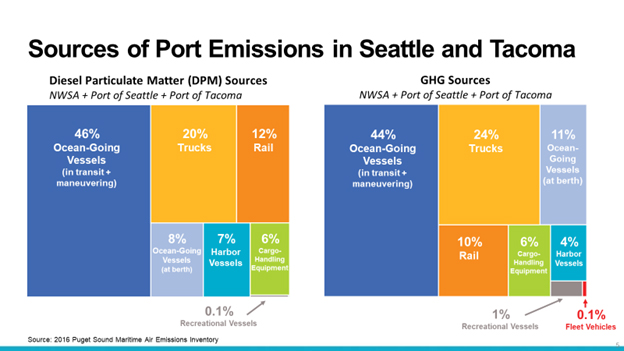 About the Strategy
First adopted in 2008, the Strategy was the first international strategy of its kind in the Port community and achieved significant results after over a decade of implementation. The 2013 Strategy set targets to reduce diesel particulate matter (DPM) and GHG emissions per metric ton of cargo by 80 percent and 15 percent, respectively, relative to 2005 levels. The Northwest Ports achieved both targets four years early as of the 2016 Puget Sound Maritime emissions Inventory, although total emissions of GHGs combined across the four ports increased by almost five percent. This increase can be attributed to growth in the cargo movement outpacing the reduction of GHG emissions.
There is more to do, as recent data suggest that GHG emissions from international shipping is increasing, not decreasing. According to the International Maritime Organization, GHG emissions from shipping increased 10 percent between 2012 and 2018 and are projected to increase by another 50 percent by 2050 if no additional actions are taken.
Ports and the NWSA will publish progress in annual Implementation Reports. Air pollutant and GHG emissions from each sector are measured every five years in the Puget Sound Maritime Air Emissions Inventory for U.S. ports and in a port-wide inventory conducted by Vancouver Fraser Port Authority.
About the Port of Seattle
Founded in 1911 by a vote of the people as a special purpose government, the Port of Seattle's mission is to promote economic opportunities and quality of life in the region by advancing trade, travel, commerce and job creation in an equitable, accountable and environmentally responsible manner. Our vision is to add 100,000 jobs through economic growth led by the Port, for a total of 300,000 Port-related jobs in the region, while reducing our environmental footprint. We are committed to creating opportunity for all, stewarding our environment responsibly, partnering with surrounding communities, promoting social responsibility, conducting ourselves transparently and holding ourselves accountable. The Port of Seattle is a leader in moving people and cargo across the country and around the world. With facilities and property ranging in scope from a half-acre park to one of the largest airports and container terminals on the West Coast, we maximize the public assets in our portfolio with an eye toward best uses and environmental sustainability. Learn more.
About the Port of Tacoma
Founded in 1918, the Port serves greater Pierce County by promoting trade, supporting family-wage jobs, and improving the environment. Today, more than 42,100 jobs and nearly $3 billion in economic activity in Pierce County depend on the Port of Tacoma. We are committed to strong fiscal stewardship of public funds, active marketing and development of Port assets to promote business growth and jobs, and environmental remediation of Port-owned properties. Through The Northwest Seaport Alliance, a marine cargo operating partnership of the Tacoma and Seattle ports, our trade customers move goods from all corners of Washington and the United States through the Tideflats to people all over the world. Learn more.